About Ydoc
Ydoc is a not for profit organisation based in the Netherlands. We care about the future of documentary storytelling. That's why we started to develop different services that assist in making documentary stories available to an international audience.
With a focus on the still and moving image, Ydoc is always looking to expand their shop and archive with stories worth telling. By putting all these projects and makers together, we want to track exciting developments within the field of documentary & visual storytelling and address our audience, via this site and through social media to support, buy and share these projects. We also developed publishing applications to promote visual and documentary storytelling.
—
Our services and activities
YdocStore List your productions, linking to your own webstore, or opt for complete handling of payments and shipping worldwide. Also possible: physical distribution of publications to stores in the Netherlands and Flanders. Make sure your publications are visible/available in the YdocStore as well. The costs are minimal. Multiple models of service are available.
YdocBookApps Access the culture of the photobook. Share classics, out-of-print publications or simply provide alternative access to new productions on tablet computers. Available for iOS.
YdocFilmApps Make independent documentary film productions available to a worldwide audience. Easy sharing of stills or referencing of the movie itself via social media. Available for iOS.
YdocAgenda Find photography venues, exhibitions, and events worldwide. Listing based on Facebook: provide us with your organisation's FB url and your programme will be listed too.


Strolling down a city and wondering where to find an exhibition? In the past few years Ydoc developed a beta version of the YdocAgenda, an application for iOS and Android that can function that directs you to nearby venues and shows based on your geo-location. Within seconds, YdocAgenda can tell you what can be seen, by whom, where and when. The free YdocAgenda app will provide information about photographic exhibitions (and documentary storytelling in particular). It features venues, exhibitions and events all over the world.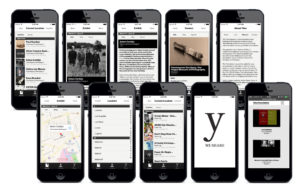 Download for iOS
Download for Android


Colophon
Ydoc Foundation was founded in 2011 by Paradox, Prospektor, Kummer & Herman and Colour and Books.
Ydoc has been supported by The Egbert Kunst Fonds of the Prins Bernhard Cultuurfonds, the Mondriaan Fonds and Stichting Sem Presser Archief (via founding partner Paradox).
Ydoc – open platform for documentary photography and visual storytelling
YdocFoundation
PO Box 113
1135 ZK Edam
The Netherlands
T +31(0)299315083
info@docfoundation.org